We offer peace of mind by utilizing our expertise and track record of more than 30 years in fine art transportation.
Transportation and storage of art works is special work that requires a wide range of expertise. We have won the firm trust of our customers in this niche field through our experience of over 30 years and attentive services. The fine art warehouse we possess is highly rated by those inside and outside the industry because of its advanced design and scrupulous management system. The transportation and storage of experience art works requires knowledge, experience and attentive care. Katolec has built up experience and trust in this field over a period of more than 30 years. In addition to transportation of art works, Katolec offers all services related to fine art transportation, including on-site collection, packing, exhibition, storage, return to collection, and also customs clearance and insurance operations. Since we joined ICEFAT in 2006, we have been strengthening business ties with overseas delivery companies.
Katolec's fine art warehouse that boasts a complete security and management system enables us to offer various services such as photography for catalogs in addition to providing a safe storage space.
Flow of art work handling
①Inspection and planning
A preliminary inspection enables Katolec to detail a work plan based on data concerning the condition and environment of art works. The best means of transportation is determined for these works using Katolec's expertise in fine art transportation.
②Collection and packing
Katolec staff visit your place to assemble special boxes and pack each of your art objects, using heat insulation and cushioning. Our staff is sent overseas to pack and load art works and make arrangements for transportation.
Export and storage packing
At the packing workshop in our fine art warehouse, our staff packs art objects ranging from paintings, sculptures, and ceramic works to antique furniture and building models, whether light or heavy, for domestic transport, storage, and export.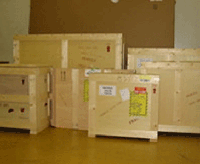 ③Transportation
Katolec's fine art trucks, equipped with a temperature and humidity controller and air suspension, ensure secure transport of precious art objects. These trucks have customer seats for clients to accompany their cargo. This means you can accompany your art works to their destination. In addition, these vehicles were jointly developed by our group's Automotive Precision Services Co., Ltd. and Fine Art Transportation Branch. Our equipment is evolving on a daily basis.
Insurance and Custom Clearance
Katolec fine art transportation, which provides safe and reliable transportation of fine art taking into view all of international transport (e.g. air transport, marine transport and local transport and delivery), customs clearance warehouse storage and domestic transportation and delivery in addition to handling agency services for damage insurance and similar, performs all the complicated tasks related to customs clearance and import/export.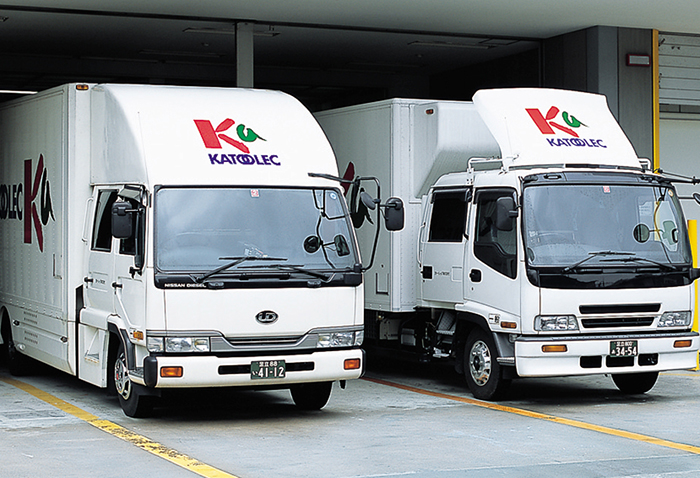 ④Delivery and exhibit removal
Various conditions are required in the transportation and management of art works, such as the age in which they were made and their preservation state, in addition to their shapes and materials. Art work packing and transportation technique qualified personnel* who are experts in fine art transportation take charge of all aspects of fine art transportation (e.g. packing, delivery, unpacking, exhibition and removal). We offer reliable fine art transportation services with peace of mind by utilizing our abundant knowledge, experience and excellent teamwork.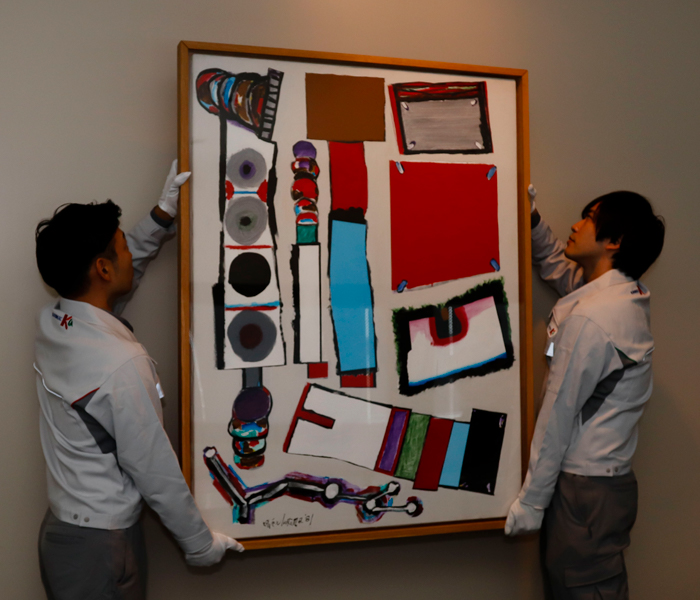 ⑤Warehouse storage and return
We maintain customer property in the fine art warehouse, whether temporarily or on a long-term basis. The warehouse building is also used as a bond warehouse. This means it is possible to inspect and view the contents of works before import. In addition, we return work directly to the place designated whether in Japan or overseas.
Click here for the fine art warehousing page
One-stop supporting for traveling exhibitions [International transportation network]
Through the International Convention of Exhibition and Fine Art Transporters (ICEFAT) network, we move in fine arts from overseas countries and deliver them to each exhibition site in Japan, while repeating the process cycle, i.e. storage, transportation, arrangement, and removal, and return them back to the overseas countries.